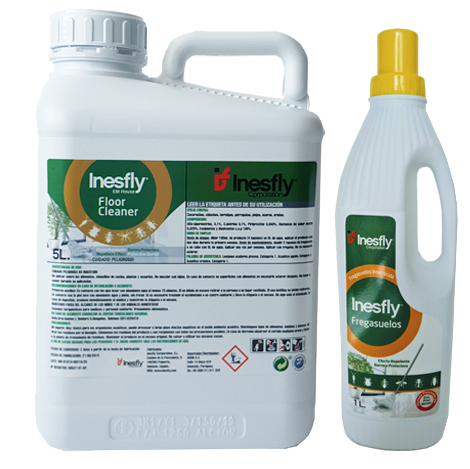 INESFLY
FLOOR CLEANER
INESFLY FLOOR CLEANER is a floor cleaner that contains
microencapsulated insecticide active ingredients for control
of crawling insects (cockroaches, ants, fleas) on surfaces where the
product is applied.
This product is formulated for remove all kind of dirtiness, specially
greasy and oily dirt. Neutral pH allows to use it in all types of
pavements. Its composition ensures low foam formation when used in
sweeping machines. Contains an aroma that provides a pleasant
scent.
The insecticide effect of INESFLY FLOOR CLEANER protects surfaces for
1 week days (unless floor is cleaned anew).
Dose attack against crawling insects (ants, cockroaches …) dilute 100 ml of product (4 plugs) in 5 liters of water. Apply the product every two days during the first week. Maintenance dose: dilute the product into water, 2 plugs in 5 liters of water, apply the product once a week. It can be applied both for manual cleaning with mop or cloth and for cleaning machines. It is not necessary to clarify.
Flooring and surfaces of industries, farms, stores, and houses. Areas where is needed good cleaning and protection against crawling insects: warehouses, storage rooms, terraces, basements, cellars, pantries, kitchens, etc.. Ventilate properly before entering in the area. Do not mix with other chemicals.
1 litre and 5 litres bottles