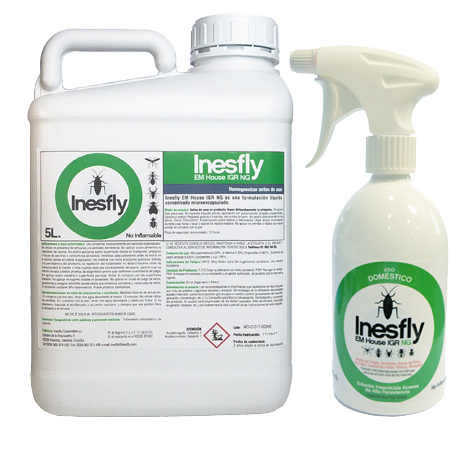 INESFLY
EM HOUSE IGR NG
INESFLY EM HOUSE IGR NG is a water-based transparent polymer coating leading polymer microencapsulated suspension insecticidal, acaricidal and insect growth regulators.
Inesfly with its innovating technology based on polymeric microcapsules allows a slow release of the insecticide and IGR, giving to the product a high persistence and very low toxicity, maintaining the no interaction between microcapsules. Allows to control all kind of arthropods and pests.
Easy to use. No need to mix or dilute.
In all those places where exist a great affectation of insects. It is possible to be applied in places where it is not possible to be painted. In houses, residences, vehicles, public buildings, health centres and hospitals. In Hotels rooms, in crevices, baseboards and other places where insects may be harbouring.
Performance: 1liter/20m2
Product ready to use. Apply directly and spray on any surface to be treated. It can be applied by spray gun, backpack or spray.
Fabric application: it is recommended to spray fabrics, tarps, etc. – At a distance of about 15cm. and, in the case of clothes, dry before use it.
The patent formula of INESFLY EM HOUSE NG with its active biopolymer microencapsulation makes a film is formed on fabric surface, therefore, the product does not pass through the tissue and has not contact with the skin.
The effectiveness of the formulation is 2-4 weeks, depending on the treated surface and the insect. Apply INESFLY EM HOUSE NG after each wash.
Precautions: Avoid direct contact with skin and mucous membranes. Avoid contact with food, drinks and kitchen gadgets. In case of contact with skin, wash with plenty water.
100 ml, 250 ml, 500 ml, 1 litre and 5 litres.