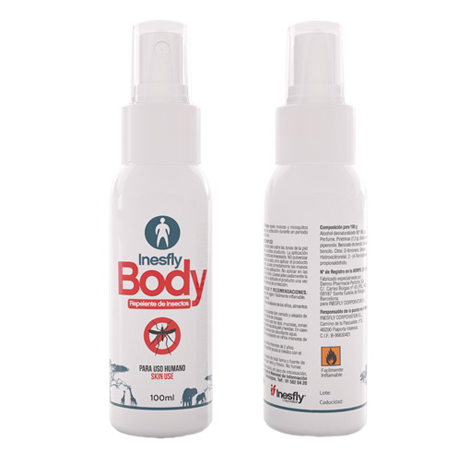 INESFLY
BODY REPELENTE
INESFLY BODY is an insect repellent for human use offering protection for a period of up to 7 hours.
Alcohol desnat. Perfume. Piretrum extract. Piperonyl butoxide Benzilbenzoate, benzilsalicicate. Citral. D-Limoneno. Geraniol. Hydroxycitronella. 2-(4-Terc-butylbenzyl)Propionaldehyde.
Apply and spread well on skin areas exposed to potential bites. The frequent and repeated application is unnecessary. For adult it is enough 2.5 g of product (20 sprays). Do not spray directly to the face, apply the product by hand. Do not apply on children's hands. Wash hands properly after using the product. Wash the area of the body where the product was applied once the backup time. Do not use on people sensitive to its components. Do not use on children under three years old. If necessary, should first consult your pediatrician. Use with caution in children under six years. The employment guidelines contained on the label must be followed. However, in areas where there is a risk of insect-borne disease and in those cases where extreme conditions so warrant, the preventive measures communicated by health authorities will be met.